Content of the article
NORWICH — Residents of this small township are stepping up to support the local LGBTQ-plus community following recent anti-Pride incidents here and in rural Southwestern Ontario.
Content of the article
The township in Oxford County was the target of vandalism and theft in late May when several Pride flags were stolen or vandalized in the community of Norwich, southeast of Woodstock. Oxford OPP charged a 16-year-old from Norwich with two counts of theft under $5,000 and a 47-year-old man from Tillsonburg with theft under $5,000 following an investigation.
Since then, some members of the community have lined the main street and the front of their homes with rainbow Pride flags. The Oxford County Pride Committee also raised nearly $1,000 to help replace the Pride Progress banners.
When Kevin Keegan learned of the incidents in late May, the Norwich resident was quick to show his support and hung a Pride flag in the door window of his flat. "I just thought it was a bit wrong that the other flags had fallen so soon," he said.
Since someone offered the free Pride flags to township members, they've multiplied, Keegan said. "There are several flags around the city now. My kids scream 'Rainbow' every time they see one now.
Acts of hate towards Pride and those who identify as part of the LGBTQ-plus community in Norwich are nothing new, said Alisha Stubbs, a resident who helped organize a solidarity march in late May. "It keeps happening," she wrote in an email to The Free Press. "Hate is rampant in our community."
In an interview, Stubbs discussed various anti-Pride incidents over the past few weeks that she and her family have experienced.
Content of the article
Last weekend, she said, a group of teenagers were captured on her home surveillance video talking about tearing down the Progress Pride flag on their porch. One of the teenagers had tried to bully Stubbs' husband Clayton, Stubbs added.
A few days later, a few people showed up on her doorstep — then took to social media — to express their opposition to the LGBTQ-plus community, she said, adding that they described Stubbs as "a angry woman".
"I'm super angry," Stubbs said. "I'm angry that people don't feel safe in our community…and, one can imagine, that they didn't feel included in this community."
Like Stubbs, her two young daughters – aged seven and five – struggle to understand why other members of the community are not inclusive. "Quinn, our youngest, said, 'Why do they hate in their hearts? Why are they taking down the flags?' »
Stubbs, a social worker who teaches at the university level, hopes to convince others to fight hate through education and kindness. She is helping organize a 'tent of kindness and compassion' on July 8 and 9 during the annual Norwich Nostalgia Days festival, where volunteers will sell signs saying hate has no place here.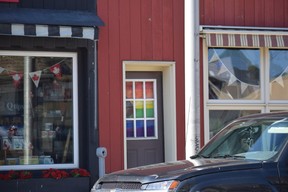 Norwich is one of many cities in southwestern Ontario that has become the target of anti-LGBTQ-plus hate in recent weeks.
Oxford OPP are investigating after a rainbow pedestrian crossing in Ingersoll town center was vandalized in late May. Police made no arrests in the incident.
Content of the article
Perth County Provincial Police are also investigating after several Pride decorations were recently damaged or removed in North Perth and Wellington County between June 4 and June 12.
On Friday, an Oxford police spokesman said officers were investigating an incident in Tillsonburg where thieves cut pride flags at a local business and left owners a hate letter. "When I arrived at work on Tuesday, the pride flags were not where they had been placed on the fence," said Kelly Spencer, owner of Indigo Lounge and Wellness Center.
The flags had been slashed, punctured and defaced with what Spencer believes to be mud, she said. Even more alarming, however, was the letter left in a sealed plastic bag tied to the fence.
"He said horrible homophobic slurs and said to me, 'If you keep supporting these (people), what happens to these flags will be an allegory of what will be my home. ""
"I was heartbroken," Spencer said. "I have been open for 11 years. I've always made it known that I welcome all walks of life," she said.
But over the past few days, the community — from Mayor Stephen Molnar to residents and other businesses — has rallied behind her. "It's just an outpouring of love and support."
cleon@postmedia.com
twitter.com/CalviatLFPress
The Local Journalism Initiative is funded by the Government of Canada